It is the silly season but no need to completely forget about having a nutritious balanced diet. You can easily add Chia bia to any of your favourite foods to keep up your nutrient count even if you are treating yourself. Here's 5 ways to include your daily OMEGA 3's on Christmas day. You don't have to do all 5 but maybe try out 1 or 2…
Ginger Bread Cookies
Simply add 2 tablespoons of whole Chia seeds in the batter that you normally use for these delicious treats: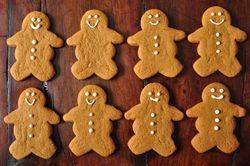 Egg Nog
Ingredients
2 cups almond milk (or other non-dairy milk)
2 medjool dates, pits removed
1/2 teaspoon vanilla extract
1/2 teaspoon rum extract or as much rum as you like
1/2 teaspoon freshly grated nutmeg, packed
1/8 teaspoon cinnamon
1 tablespoon chia seeds
Instructions:
Place all ingredients except the chia seeds into blender and blend until smooth. Check sweetness and add a little of your favourite sweetener if needed. Pour into a glass jar and stir in the chia seeds. Refrigerate for at least 2 hours, shaking the jar every now and then to make sure the seeds don't clump together. Shake well before pouring into two glasses. Garnish with a sprinkle of nutmeg, if desired.
Trifle
Simply mix a couple tablespoons of chia seeds into the custard of your trifle recipe and enjoy the added benefit of all the extra nutrients
Vegetable crudites with hummus
Blend some chickpeas with tahini, garlic, lemon juice, a little ground cumin and chilli powder. Mix to your desired consistency and add some chia seeds. Season with salt and pepper and serve with a mix of your favourite raw veg. Simple and delicious.
Enjoy the Christmas break but try not to over do it too much…
Visit www.chiabia.com for more recipe ideas and to buy high-quality chia seeds