As part of our 'We Are Sure About Seeds' campaign, Chia Bia fan Lilly Higgins was on the TV 3, Six O Clock Show kitchen yesterday. Lilly demonstrated how to make a simple chia pudding with a delicious Raspberry Chia Jam and Chia Mandarin & Passion Fruit Marmalade. All of these chia recipes are raw (they do not need to be cooked) and can be made in under 10 minutes!
The chia jam is a tasty topping for the pudding or it works lovely in smoothies, porridge or as a layer in chocolate cake too! The marmalade is great on brown bread or on top of creamy desserts.
Chia seed is an easy way to boost nutrition for all the family as it is high in Omega 3, Fibre, Protein and other Vitamins & Minerals. Our milled chia seed and fruit milled mixes are easily disguised in children's meals which is an added bonus!
If you are a fan of preparing food on a Sunday evening for the busy week ahead, these recipes will last for up to one week in the fridge in an airtight container.  Chia puddings are great for breakfast & snacks, pop it into a smaller container and it's the perfect travel partner!
To watch Lilly in action check out the TV3 player link here 
Chia Pudding with Chia Jam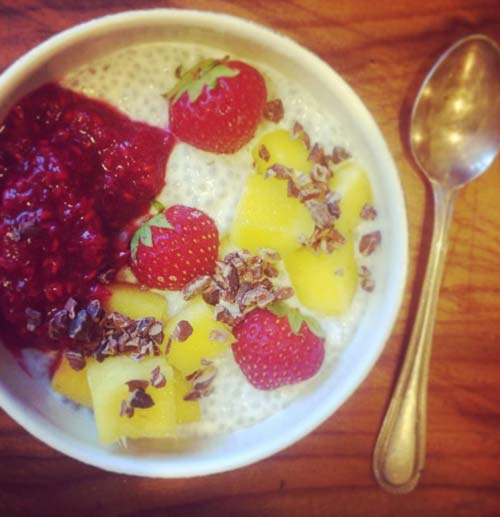 Ingredients for the pudding
1 tin full-fat coconut milk
4 tbsp whole chia seeds
Ingredients for the chia jam
200g raspberries
1/2 tsp vanilla
1 tbsp honey
1 tbsp milled chia seeds
1 tbsp lemon juice
Method
Mix the coconut milk with the seeds, cover and leave in the fridge overnight.
Make the raw chia jam. Mix everything together, mashing the raspberries slightly.
Cover and leave to set overnight.
The following morning layer the pudding and jam in pots and store in the fridge.
Raw Chia Mandarin and Passion Fruit Marmalade

Ingredients
3 mandarin oranges, peeled & any pips remove
2 passion fruit
1 tbsp whole chia seeds
Method:
Place the mandarin segments into a small jug or bowl.
Blitz with a hand-held blender or in a food processor until it's roughly mixed and broken down but not a smooth puree.
Half each passion fruit and spoon the pulp into the mandarin mix.
Stir with a fork to mix thoroughly.
Stir in the chia seeds then cover and leave to set overnight or for at least 6 hours.