Almond & Raspberry Chia Muffins
Dairy free vegan Almond and Raspberry Chia Muffins by Monika of Pepperazi.ie 
The number of people allergic to dairy produce is rising. So is the number of people becoming vegan by choice. It doesn't, however, mean they need to give up on their favourite foods. There are many substitutes for dairy products. In the below muffin recipe I have used milled chia seeds instead of eggs and almond milk instead of cow's milk. I have also added ground almonds for natural sweetness and fresh raspberries for the lovely fruity flavour and moisture.
These muffins are not only tasty but also good for you. They are loaded with nutrients like protein, fibre, vitamins and minerals coming from the chia seeds, almonds and raspberries.
The below recipe makes 12 muffins.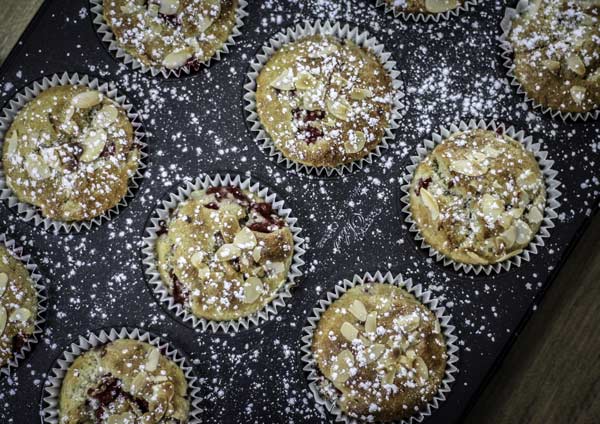 Ingredients
2tbsp milled chia seeds
6tbsp water
200g self-raising flour
200g ground almonds
125ml sunflower oil
250ml almond milk
200g golden caster sugar
Pinch of salt
150g fresh raspberries
Handful of flaked almonds
Icing sugar
Method
Preheat the oven to 180C.
In a large bowl, mix the milled chia seeds together with water until well combined.
Add the sunflower oil, almond milk and sugar.
Using an electric mixer, beat until smooth.
Using a spoon, stir in the flour and ground almonds.
Gently fold in the raspberries.
Transfer the mixture into a muffin tin lined with muffin cases. Fill each muffin case 2/3 full. Sprinkle with almond flakes.
Bake in the oven for 25 minutes until golden brown, firm to the touch and a cake tester comes out clean.
Leave to cool. Dust with some icing sugar and serve.
A beautiful refreshing dessert. Lovely with a nice cuppa!