Baked Four Seed Turmeric Falafel
As part of our collaboration with Monika Coghlan of Pepperazi.ie, we decided to incorporate our
Four Seed Mix into a dinnertime recipe of falafels!
Falafel is a traditional Middle Eastern food which is getting more and more popular in Europe.
These deep-fried balls made from mashed chickpeas are a great alternative to meatballs. Vegan
and gluten-free. High in protein and fibre.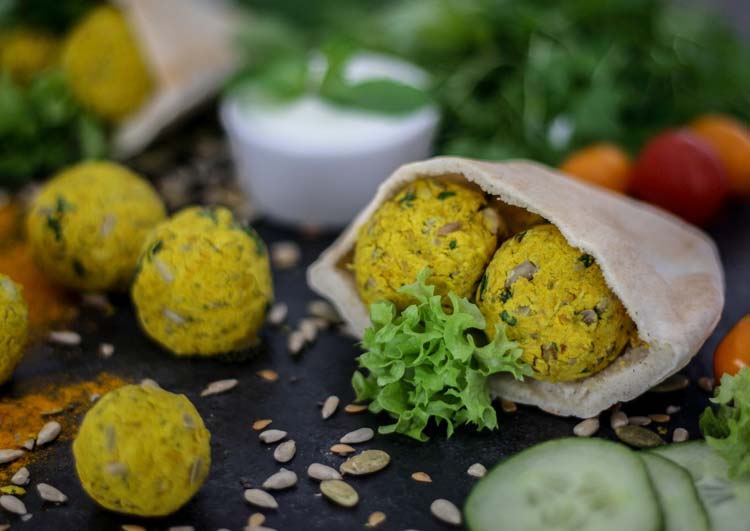 In this recipe, Monika has used turmeric which is known for its anti-inflammatory and antioxidant
benefits. The four seeds (chia, sunflower, pumpkin and flax seeds) are rich in many vitamins and
minerals, which can contribute to a healthy nervous system. Additionally, instead of deep-frying the
falafel balls, they have been baked to reduce the fat content.
These super tasty chickpea balls are a great snack and can be eaten hot or cold. They are
traditionally served in a pita bread with salad but feel free to experiment and try them with cous
cous, rice or even in a burger bun. This recipe makes 12 falafels.
Ingredients
400g can chickpeas, rinsed and drained
3 tbsp Four Seed Mix
2 tbsp olive oil
Juice from half a lemon
1 tsp turmeric
1 clove garlic
Handful of fresh coriander
Salt, pepper
To serve:
Pita bread
Green leaves
Cucumber
Tomatoes
Organic natural yoghurt
Fresh mint
Method
Blend all ingredients except the seeds in a food processor.
Transfer the chickpea mixture into a bowl, add the seeds and mix until well combined.
Using your hands, form little balls.
Brush the falafels with a small amount of olive oil and transfer to a tray lined with parchment paper.
Bake in the oven at 160C for 10-12 minutes on each side until golden.
Serve in a pita bread with salad and mint yoghurt.
These healthy exotic chickpea balls will steal your heart. Enjoy!