Here at  HQ we've been really enjoying some great new Chia Bia recipes from our guest bloggers.
If you've been following us on Facebook, Twitter or Instagram. you will have seen some delicious new ideas of ways to incorporate our wonderful seed into your diet! This week we are being treated to some fab recipes from Frances at the Honest Project – we'll be uploading these into our recipe files at the end of the week!
In the meantime, we've been having a little look back over the gorgeous recipes that we've been treated to over the past few months, so today we are having a #TBT and reintroducing one of our favourites –  this one for Chocolate Chia Bia Cookie Bites, from our lovely guest blogger www.thewonkyspatula.com always goes down a treat here!
We'd love you to you try them out, and don't forget to get in touch and let us know if you enjoyed them!!!
Chocolate Chia Bia Cookie Bites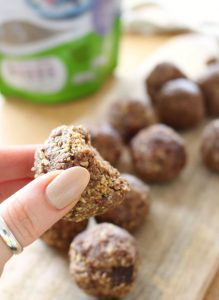 ¼ cup of milled  Chia Bia chia seeds
¼ cup of flax seeds (alternatively you can sup for extra Chia Bia chia seeds)
50g of dark chocolate, broken up into small chunks
200g of cashew nuts
¾ of a cup of almond butter
2 tsp of vanilla extract
¼ cup of agave
Method:
Preheat your oven to 200 degrees.
Lay out the cashew nuts on a baking tray and bake for 6-8 minutes until lightly golden.
Place in your food processor and blitz on high until you have a flour like consistency.
Add in the remainder of the ingredients bar the chocolate and blitz until combined.
Add the chocolate to mixture and give it one last blitz until the chocolate is evenly through the mixture.
Using your hands roll the mixture into balls, serve and enjoy!
Store in an air tight container in your fridge for up to one week.
Most importantly – Enjoy!