Chia Beet Burgers       
Chia beet burgers are the perfect healthy burger alternative. Beetroot is growing in popularity and its no wonder as it is both nutritious and tasty with it's sweet earthy flavours. The milled chia seed in this recipe not only acts as a binding agent but it also gives these burgers a nutritional boost.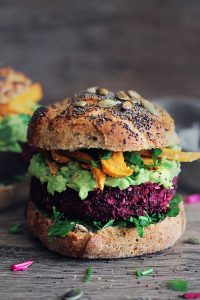 Nutritional Benefits per 2 Pattie Serving
High in Omega 3                               Source of Fibre                 13g Protein per Serving
320kcal per Serving                         1 of Your 5 a Day               No Added Sugar
Ingredients
250g Grated Beetroot                    250g Grated Carrot
150g Chopped Onion                      10g Rapeseed Oil
20g Milled Chia                                  100g Walnuts
80g Mature Cheddar Cheese      120g Feta Cheese
4 Spring Onions                                 30g Oats
4g Cumin                                             2g Salt
Suggested Toppings: Hummus or Tzatziki
Method
Preheat oven to 150 degrees. Toast the walnuts for 10 minutes. Once cooled, roughly chop.
Heat the oil in a large frying pan, add the onions and saute until well softened. Add the grated beetroot and carrot and fry for another 10 minutes until they are beginning to soften.
Transfer the mix to a bowl and allow to cool.
Pulse the oats in a food processor until they have reached almost a flour like texture.
Grate the cheddar cheese, finely chop the spring onions and crumble the feta.
Add the oats, cheddar, feta, spring onions, milled chia, chopped walnuts and seasoning to the bowl. Stir to combine. Taste and add more seasoning if required.
Form the mixture into 12 patties and chill for 30 minutes.
Preheat the oven to 180 degrees. Put the patties on a lined baking tray and bake for 25 minutes.
Serve with a leafy green side salad, sweet potato fries and one of the suggested toppings.