Toast with jam is up there on on our list of favourite breakfast! It's easy to make and tastes great with a cup of tea or coffee. Have you ever tried to make your own loaf and your own jar of jam? Or have you given up before even trying because the recipe seemed too complicated and time-consuming?
If that's the case, have a look at the below recipe by the very talented Monika of http://pepperazzi.ie/. Incredibly easy to make, super healthy and nutritious, oh and extremely delicious! This is chia goodness all the way! And what a way to start your day!
Four Seed Wholemeal Bread
This recipe makes a loaf of bread.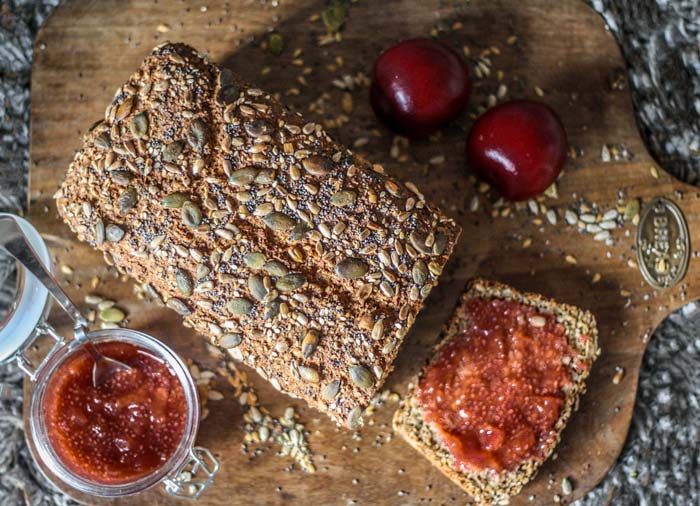 Ingredients
250g wholemeal flour
250g plain flour
6 tbsp Chia Bia Four Seed Mix plus 1 tbsp for sprinkling on top
1 tsp salt
1 tsp bread soda
1 egg
400 ml buttermilk
Method
In a large bowl, sift together all dry ingredients and make a well in the middle.
In a separate bowl, mix the egg with the buttermilk and pour into the dry mixture. Bring all ingredients together. The dough will be soft.
Transfer the mixture into a loaf tin and sprinkle with some seeds.
Bake for 60 minutes at 180 C. You will know the bread is ready when it sounds hollow when tapped on the bottom.
White Chia Jam
This recipe makes 4 jars of jam

Ingredients
400g plums, washed, pitted and chopped (or any other seasonal fruit)
2 tbsp manuka honey
2 tbsp lemon juice
4 tbsp Chia Bia Whole White Chia Seeds
1/2 tsp mixed spice
Method
Wash the plums, remove stones and chop roughly.
In a saucepan, bring the plums to the boil together with the honey, lemon juice and mixed spice. Simmer for 10 minutes until the fruit has softened.
Add the chia seeds and simmer for another 2 minutes.
Let the jam cool down and transfer into sterilised jars.
We promise you'll love every bite of this brown bread and the sugar free jam is great on pancakes, scones and in compotes too!