We are very excited to launch our Chia Seed Flour online this week! Chia Seed Flour is an easy way to boost nutrition in cooking and baking. Use chia flour as part of the flour required in a recipe to boost nutrition. Chia Seed Flour's finely milled consistency means the texture works well in the baking process as it is less coarse than milled chia seed.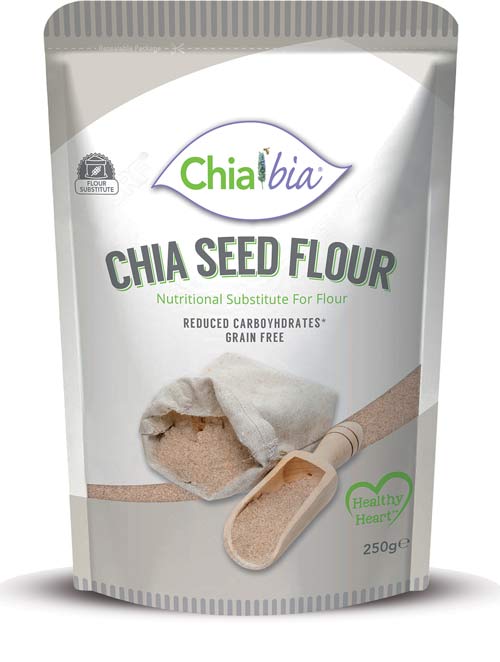 Chia Seed Flour is finely milled in a cold process ensuring no nutrients are lost. There is nothing added to the flour, it is 100% natural, gluten-free and lower in carbohydrates compared to other grain flours.
Chia Seed Flour has all the benefits of chia seed, it is subtle tasting, high in Omega 3 which supports a healthy heart. One 15g portion (a tablespoon) of chia seed daily contributes to the maintenance of healthy blood cholesterol levels*. High in Fibre which aids gut digestion and a Source of Protein which contains all 9 essential amino acids and contributes to the growth and repair of muscles.
The flour comes in a handy resealable pack with instructions for use on the back.
How to use Chia Flour
Easy to use – perfect for baking and cooking.
As a guideline, replace 10%-15% of the regular flour with chia flour and increase the liquid by the equivalent amount. i.e. if you use 30g chia flour add 30ml of extra liquid.
Use Chia Flour in
Pancakes
Bread
Cakes
Brownies
Smoothies
Cookies
and lots more…..
Try out our Gluten Free Chia Pancake recipe here.
Available exclusively online !
*The beneficial effect is obtained with a daily intake of 2g of Omega 3 ALA.  Chia Seed Flour contains 3g ALA per serving.