When it comes to cupboard essentials there are a few things I like to always have to hand and chia seeds are always in my top ten!
They truly are one of the most versatile and nutrient dense ingredients around as well as being rich in antioxidants and omega 3 and having a very long shelf life.
The first reason I love them is the nutritional content.
Well it's this simple…a 15g serving (1 tablespoon) of Chia Bia chia seeds contains –
2.7g Omega 3
5g of Fibre
3g of Protein
Chia also contains minerals such as calcium, iron, folic acid, selenium and magnesium so is an incredibly easy way to boost nutrition in your diet, just by adding these tiny seeds!
How I integrate them into my cooking and baking are below.
Smoothies
A popular way to use chia seeds is in smoothies. A tablespoon of fresh seeds adds texture and nutrients to my fruit smoothies.
Thickening Salad Dressings
When it comes to thickening dressings, chia seeds blend well with salad dressing ingredients such as olive oil, vinegars, maple syrup, and lemon juice. Adding about a tablespoon of milled chia seeds to almost any salad dressing recipe. The more seeds you add, the thicker the dressing.
Chia Pudding
I love the thick and satisfying texture of Chia pudding. It's so easy to prepare and very filling. The ratio I use for chia pudding is 1:4 i.e. 1 part chia seeds to 4 parts dairy-free milk.
Simply stir all the ingredients together and add in fruit or some natural sweetener to ensure they're well combined and within 10 minutes it will have thickened up to a pretty heavenly breakfast.
Egg Substitution in Baking 
Within baking it can be tricky to mimic the binding of eggs in recipes but what I have found works pretty consistently is to substitute one whole egg in a recipe for 1 tablespoon of chia seeds mixed with 3 tablespoons of water. I mix them together in a bowl and allow to gel for 10 minutes before adding to my recipe ingredients.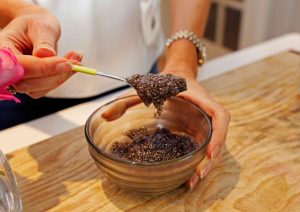 Granola, Muesli or Energy Bars
Chia seeds give homemade granola, energy, or protein bars a fibre boost. I love making my own granolas and muesli at home and chia seeds are an easy addition. You can also add them to a bircher muesli too.
Chia Jam
I love finding ways to use up all my fresh produce and Chia Jam is amazing.
The Chia seeds work as a natural gel thickener giving a jelly like consistency to your favourite fruit combinations.
To make a simple chia seed jam…
Ingredients
500g raspberries or mixed berries
1 tsp vanilla extract
3 tbsp maple syrup
3 tbsp chia seeds
Method
Add a dash of water to a pan and add the berries in a pan with the vanilla and maple, then cook over a low heat for 5 mins or until the berries have broken down. Mash them with the back of a fork if needed.
Once the fruit is soft stir through the chia and cook on a low heat for 10 mins. Set aside to cool completely (it will thicken as it cools). Spoon into a bowl or sterilised jar and store in the fridge.
This will only last 3-5 days as unlike shop bought jam varieties it doesn't contain any preservatives.