Vegan Orange and Chia Seed Muffins
These vegan friendly orange and chia seed muffins will be sure to sweeten up your office – they certainly worked a treat at Chia Bia HQ this morning. The mandarin oranges give them a truly indulgent orange sweetness which is rounded off by the combination of chia seeds and nutty spelt flour. They are quick and easy to make so perfect for all occasions.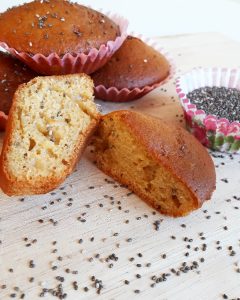 Ingredients:
50g Strong Bread Flour
75g Plain Flour
25g Wholegrain Spelt Flour
1/2 tsp bicarbonate of soda
3/4 tsp baking powder
1 tsp Chia Bia Whole Chia Seeds
75g golden caster sugar
125g Soy Yogurt, or other plantbased yogurt
2 tbsp soy milk, or other plantbased milk
25g agave syrup
2 tbsp oil (Vegetable or Coconut would work)
1/2 tsp edible mandarin oil (or orange essence)
Juice and grated zest of 2 unwaxed mandarins
Method:
Preheat the oven to 180C. Put 6 paper cases into a muffin tray. Mix together the 3 types of flour, bicarbonate of soda, baking powder, Chia Bia chia seeds, and sugar in a bowl with a whisk.
In another bowl, whisk the yogurt with the milk, agave syrup, oil and mandarin oil (or orange essence). Stir in the mandarin juice and zest. Add the yogurt mixture to the flour mixture and combine everything with a spoon, just until all the ingredients are combined and you have a smooth mixture.
Distribute the mixture between the muffin cases so that they are each around two-thirds full. Bake the muffins in the centre of the oven for around 25 minutes until golden. Insert a skewer: if it comes out clean, the muffins are done. (Otherwise continue to cook for a couple more minutes, then test again.) Lift the  muffins in their cases out of the tray and leave to cool on a wire rack.
Tip: If you really want to indulge you can whip up some icing sugar using juice from the mandarins for added orange sweetness.