VEGAN CHIA SMOOTHIE BOWLS
Everyone loves smoothies. They are extremely nutritious, full of flavour and refreshing. You can use your favourite fruit and vegetables or get creative, the options are endless. Monika from Pepperazi loves experimenting and combining different ingredients each time to discover new flavours and has shared some of her favourite smoothie bowl combinations with us.
Smoothie bowls are thicker, more filling and are very versatile, you can have them for breakfast, brunch or snack. They are really easy to prepare and look so pretty! If you have no fresh fruit, frozen fruit is perfectly fine. It literally takes 5 minutes to make these healthy super bowls. Fun for kids too they can use their imagination decorating the bowls and playing around with different toppings.
These recipes are full of protein, fibre and vitamins. They are also non-dairy so perfect for
those who enjoy a plant based diet. There is lots of natural sweetness coming from the fruit so the syrups are optional.
Now, let's get that blender going!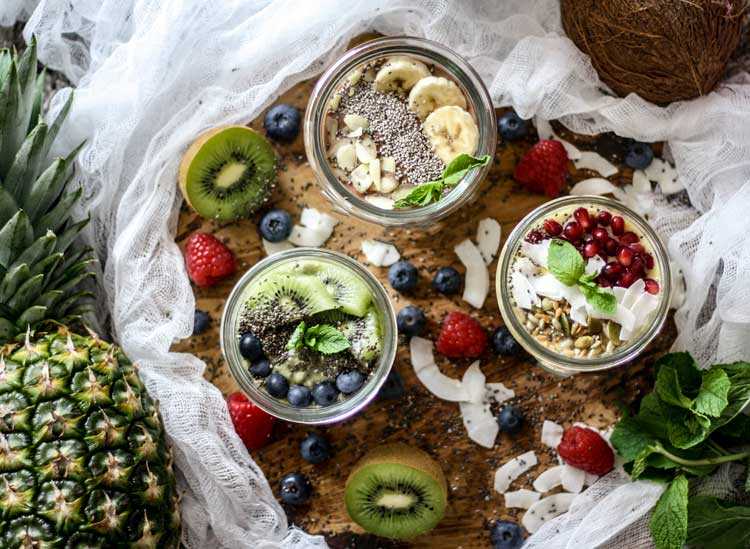 Three Recipes to get you started:
1) COCOA, PEANUT BUTTER & BANANA SMOOTHIE BOWL
1.5 banana, peeled and roughly chopped
1 tsp cocoa powder
1 tbsp smooth peanut butter
1 tsp white chia seeds
1 tbsp maple syrup (optional)
3-4 tbsp almond milk
I used sliced banana, white chia seeds & flaked almonds as toppings.
2) SUPERGREEN MATCHA, AVOCADO, KIWI & MINT SMOOTHIE BOWL
1 avocado,
2 kiwis, peeled and roughly chopped
1 tsp of matcha powder
1 tsp black chia seeds
1 tbsp maple syrup (optional)
3-4 tbsp soya milk
3 mint leavesI used sliced kiwi, black chia seeds & blueberries as toppings.
3) PINA COLADA PINEAPPLE, COCONUT & MANGO SMOOTHIE BOWL
1 mango, peeled and roughly chopped
100g pineapple
1 tsp milled chia seeds
1 tbsp agave syrup (optional)
3-4 tbsp coconut water
I used pomegranate seeds, Four Seed mix & coconut chips as toppings.
METHOD
Blend all ingredients together in a blender or food processor until smooth, thick and well combined.
Top with fruit, nuts and seeds of your choice.
Recommended toppings:
Almonds, hazelnuts, walnuts, pecans, coconut chips..
Black & white chia seeds, sesame seeds, poppy seeds, Chia Bia's new Four Seed Mix (chia seeds, sunflower seeds, pumpkin seeds, flaxseeds)..
Berries, banana, mango, pineapple, peach, kiwi..
Oats, granola, cereal..