These quick Blueberry Oat Breakfast Bars make a delicious on the go breakfast for those busy mornings.
Blueberry Oat Breakfast Bars
Immune Supporting Recipes
This Blueberry Oat Breakfast Bar recipe also supports your immune system from including Chia Bia Immune Support which provides a multitude of immune supporting ingredients such as 100% of your RI of vitamin D and high levels of vitamin C and copper.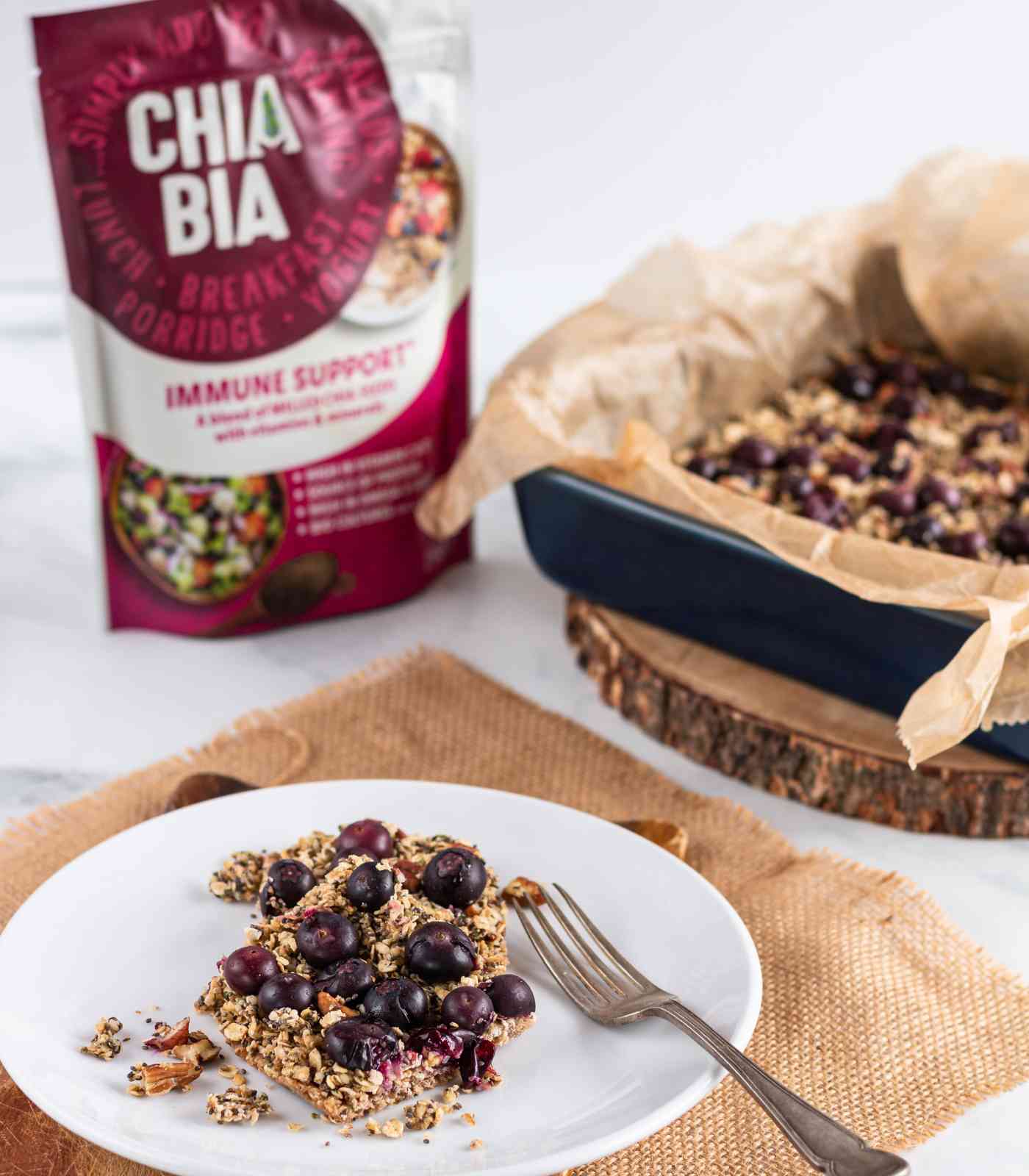 Prep Time : 10 mins
Cook Time 30 minutes
Servings: 9
Ingredients
Base Layer
1 ripe banana mashed
1/4 cup maple syrup
1 tablespoon applesauce unsweetened
1 tablespoon coconut oil
1 1/2 teaspoons vanilla extract
2 cups rolled oats gluten-free if required
1 teaspoon ground cinnamon
1/2 teaspoon sea salt
Topping
1/2 cup rolled oats gluten-free
2 tablespoons Chia Bia Immune Support
2 tablespoons hemp seeds
1/4 teaspoon ground cinnamon
2 tablespoons maple syrup
2 tablespoons fresh lemon juice about 1/2 lemon
1 cup blueberries
1/4 cup pecan nuts or any kind of nut, crushed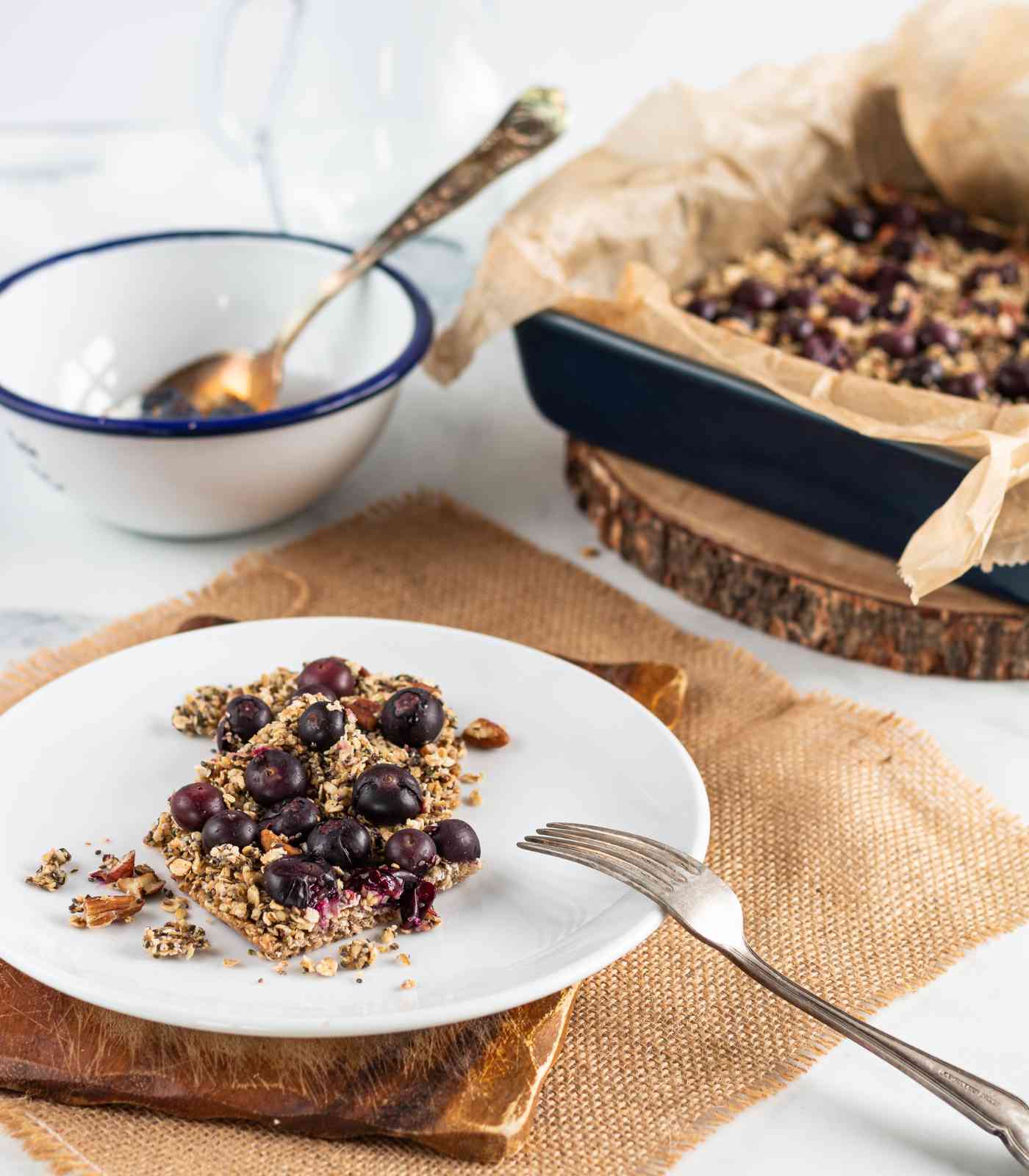 Preparation
Preheat oven to 350 °F/175 °C.
Line a 9x9in square pan with parchment paper.
Mash the banana in a mixing bowl and add maple syrup, applesauce, coconut oil and vanilla extract.
Mix well using a hand mixer.
Add the oats, cinnamon and salt, mix until well combined. The mixture will be quite moist.
Transfer the base layer into the square pan. Smooth it out with a spatula until nice and even. Bake for 11 minutes.
In the same mixing bowl, combine all the ingredients for the topping until well combined. Remove the pan from oven.
Pour topping mixture over the base and spread it out evenly.
Press it down into the base layer with a spatula or cover it with parchment paper while you are pressing it down with your hands. If using the method with the parchment paper remove the paper before putting the tin into the oven again.
Bake for an additional 20 minutes.
Allow the bars to cool and set before slicing the squares.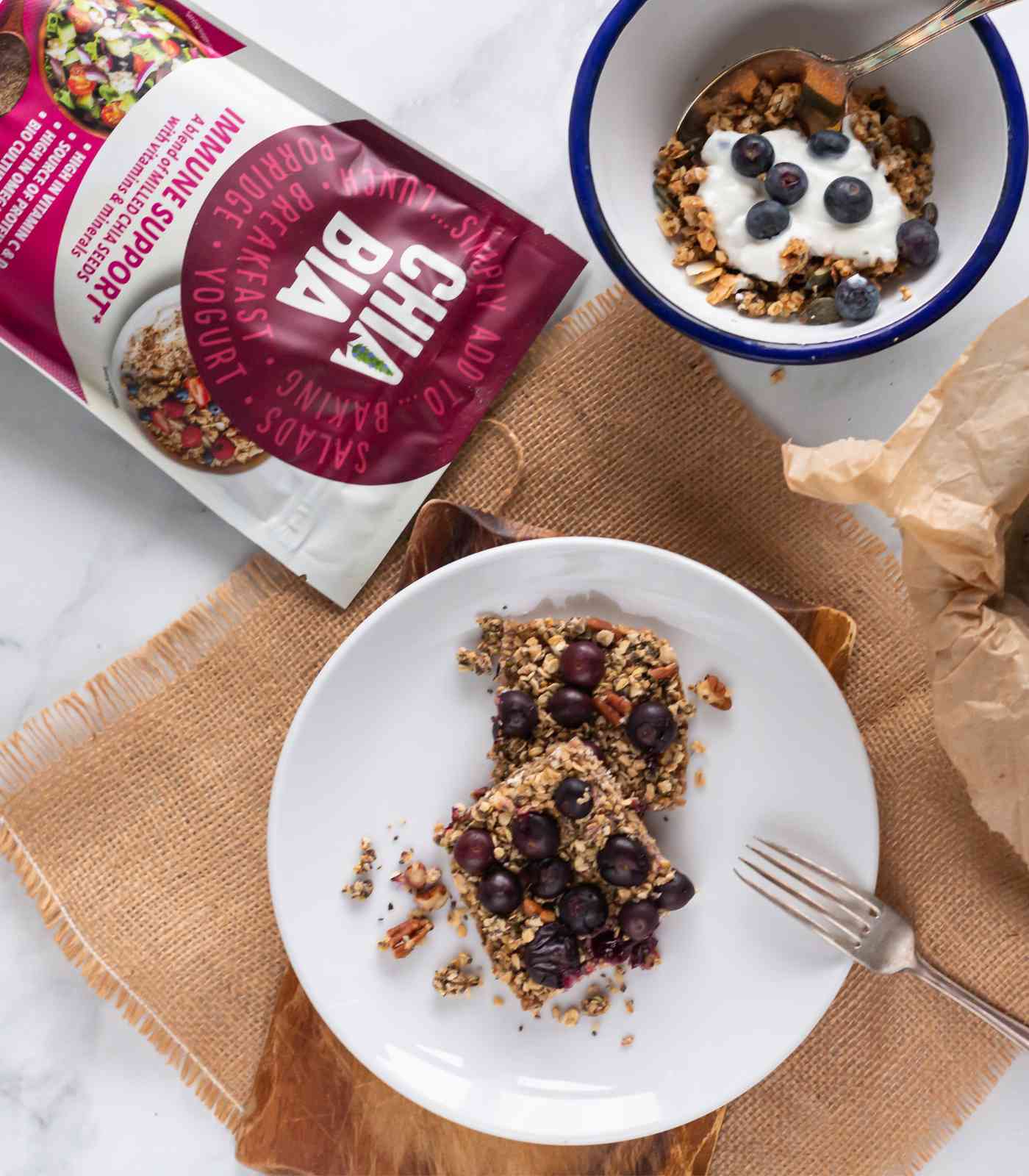 Notes
The bars can be stored in the refrigerator for up to a week.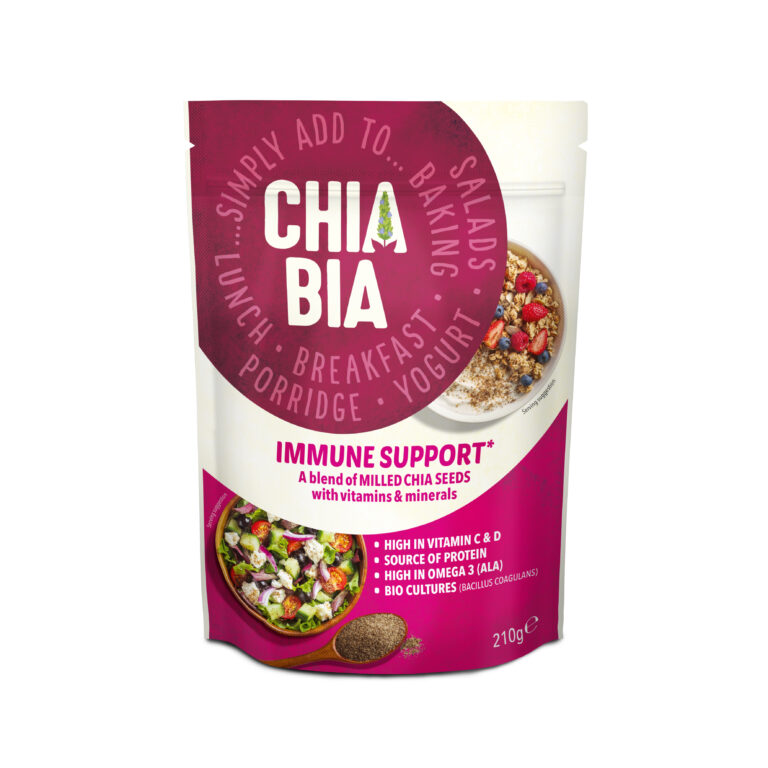 Our Immune Support product is a blend of milled chia seeds with vitamins and minerals to support the immune system. We have ensured it provides 100% of your daily recommended amounts of vitamin D & vitamin C. Iron & Copper are also naturally present. It is also a source of protein, high in omega three and contains bio cultures. As well as including our Chia Seeds in your baking you can also add 30g daily to your breakfast, cereal, porridge, fruit, yoghurt & smoothies.