Delicious Rhubarb Breakfast Pots
Prep Time: 10 minutes
Cooking Time: 40 minutes
Servings: 2 – 3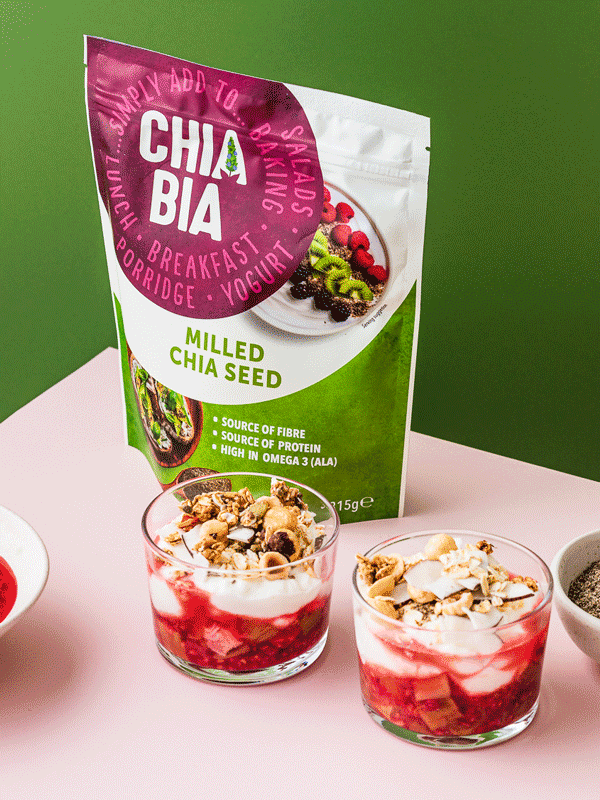 Ingredients
1 bunch of rhubarb, diced

1 punnet of raspberries or 1 cup of frozen raspberries thawed

1 – 2 tbsp maple syrup to taste

500g Greek yoghurt or yoghurt of choice

3 tbsp oats

2 tbsp hazelnuts, chopped

1 tbsp coconut flakes

1 tbsp Milled Chia Bia chia seeds
Directions
Preheat your oven to 180C (350F).

Place the rhubarb on a baking tray and roast for 20 minutes. Once cooked let it cool while you prep the granola. You can place it into a bowl and put it in the freezer to speed up the cooling process if desired. If using frozen raspberries the rhubarb will also cool more quickly.

Mix the rhubarb with the raspberries. If using fresh raspberries, give them a little mash up. Add maple syrup to taste.

Mix together the oats, milled chia, hazelnuts, and maple syrup in a bowl. Place the mixture in to a pan over a low to medium heat. Toast the mixture for 5 minutes, tossing at least once a minute. Add the coconut and toast for 2 -3 minutes more. 

Allow the granola mixture to cool a little too before assembling your breakfast pots with fruit compote, yoghurt and speedy granola on top.

Granola mix and fruit compote can be prepared the night before to save on time if desired.